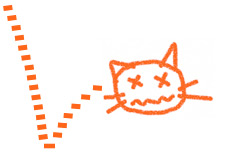 We had a good first half of property sales in Chicago's major neighborhood markets. However, news was grim yesterday as national sold units of resale homes
dropped around 30%
overall for properties under $1,000,000 (July 2010 compared to July 2009). And let me tell you folks, 2009 was no picnic in the spring, early summer. We know
this news is on a lot of peoples minds
as personal seller clients and friends expressed their opinions to us (unsolicited, I might ad) over the past two days.

Let's take another look at the five main Chicago Community Areas we mostly work in: Lincoln Park, Lake View, West Town, Northcenter and Lincoln Square. When hired by clients in these neighborhoods, we look at the closings of particular properties... not just straight up closed comparables, but total closings over-all for relative comparables in the entire community area. We think the frequency of transactions in a particular community will help set the proper expectation for market time and price for your home looking ahead. Below are criteria for the largest segment of attached condo homes in these neighborhoods.


2010 June versus July closings for all 2-3 beds, 2 baths attached condos (data analyzed from MREDLLC.com, our local industry MLS)

Lincoln Park June 43 closings, July 22 closings or -49%


Lake View June 82 closings, July 32 closings or -61%


Northcenter June 29 closings, July 7 closings or -76%


West Town June 57 closings, July 25 closings or -56%

Lincoln Square June 12 closings, July 8 closings or -33%
Ouch is right!

While the national news media was shocked and surprised in their reporting, we focus on local neighborhoods mainly on the north side of Chicago. I can't say my partner and I were shocked and surprised by the July sales numbers. We expressed the pre-April 30th urgency (the last day of eligibility for the federal first time buyer tax credit) to our home selling clients and potential clients priced under $400,000 in particular. Buyers needed to have a valid contract by this date. June was a big month for closings because the original deadline to close "tax credit" eligible deals was June 30th.
The take home: Without the first time buyers tax credit to stimulate the $0-$400,000 buyer demand we'll have to get further away from April 2010, jobs will have to stabilize and consumer confidence will have to increase before we get back to seasonal adjusted sales averages without huge swings. Your listing price has to take more into account right now than the last 6 months of comps. Bob and I are looking at the last TWO months only of sales comparables and matrices to get a good starting read on pricing. Post tax credit! The tax credit created a dead cat bounce, a small relief, from lower unit sales and (as has been reported widely) lower sales prices.


Image from www.davemanuel.com